We have been a Vic Roads Licenced testing establishment for over 20 years. Whether you are selling, buying or simply transferring your registration we can inspect your vehicle in as little as one hour and get you on your way. We strongly encourage all customers to purchase and sell vehicles with a Roadworthy Certificate (RWC) so you are fully aware of any costs that may arise with regard to road safety items.
A Roadworthy inspection is a comprehensive investigation into the safety condition of the car in accordance with Vic Roads Standards. It does not compensate for a condition report on the car but is a requirement for the transfer of ownership or registration at any stage in Victoria.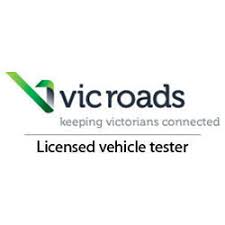 The inspection will cover the follow areas:
Alternatively, you can take advantage of our pre-purchase inspection before you buy to ensure you are fully aware of any faults the vehicle may have. Our inspections provide you with a report on the condition of the vehicle outlining items that can affect the roadworthiness or the longevity of the car itself. Such inspections put you, as the seller or buyer, in a better position to understand any additional problems and/or costs the vehicle may have…if any!